Do your research. There are tons of lash boutiques in every major city and it's tough to choose the right one. Find a lash artist that takes the time to properly apply extensions and has good reviews.
They will NOT damage your natural eyelashes. The key to proper lash extensions is the application method. If lashes are applied the right way, they will never break off or pull out your natural lashes. Going in, you should also be mindful to not pick or pull at them.
Plan to arrive at least five minutes early. This gives you the chance to get comfortable and address any questions or concerns with your lash artist.
Your first appointment will generally last  90-120 min. During lash extension appointments, your eyes will be closed the entire time. This is your time to take a midday nap!
Eyelash extensions are customizable. Who would have thought? There are many different lengths, curls and diameters of eyelash extensions as well as different looks that can be created. The most popular shapes are a cat eye, where the longest length is on the outer corner, or a round and open look where the longer length is in the middle.
Try a more natural look the first time. It's best practice to go with a natural look your first time. You can always add more drama later.
Maintenance is easy. We suggest a fill every 2.5-to-3 weeks. If you want them to last longer, be careful about how much you touch and rub your eyes. You should also brush them a couple times a week with the spoolie brush your lash artist sent you home with.
You can get them wet. That's good news for all the water babies out there. Just wait the recommended 12-24 hours before you get them wet. And after that? Shower, swim, work out, whatever.
You can wear makeup. The best part of extensions is you can ditch your mascara and eyelash curler and cut your beauty routine time down, but that doesn't mean you CAN'T wear eye makeup. If you love a winged eyeliner or a smokey eye, go right ahead and rock your look. Just make sure you are using something oil-free to take it off.
They're not permanent! If you want to take a break from your extensions there are two ways to do it — have them taken off or let them come off naturally. Removal only takes a few minutes.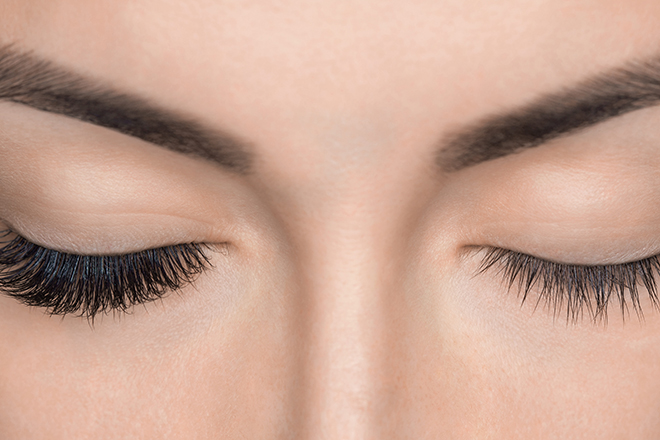 One important thing to take note is raw material because it directly affects your health. Always make sure that the raw material is safe, clean and high-quality.
Welcome to Vietnam which is famous for producing high quality eyelashes. There are many eyelash manufacturers in Vietnam and some famous places like Sai Gon, Binh Duong, Daklak, Thu Dau Mot, Ha Noi, Bac Ninh,..and I would like to introduce our company to you to find a good wholesale eyelash supplier.
Ngoc vy lashes company located in Gia Binh district, Bac Ninh province, with an area of  700m2 warehouse.
The number of workers of the company is over 200 people. The company has increasingly improved and enhanced the workmanship for the worker by inviting experts in the field of lash from Korea to teach. Thanks for that. The company fully believes in worker's workmanship.
The company also has a strong QC, QA team to control the quality of products from the beginning to the finished product. With the help of  QC,QA team, during the process of production, the company can easily find out the mistakes if they appear and also easy to fix them to make sure that the product will achieve the best quality status before shipping to clients.
The company's lash is very diverse from size, image to color and can meet all kinds of requirements spring from lovely clients and also make sure that the lash product will be delivered to the client's hand on time.
Our factory chooses the high quality materials and has a strict QC system  and experienced workers to keep the high quality of our eyelashes. Welcome the friends from all over the world to visit us. And sincerely hope we can do business with you. Any questions, please feel free to contact us.
Facebook:https://www.facebook.com/longmingocvy
Website:https://longmingocvy.vn/
Youtube:https://www.youtube.com/channel/UCKPrjCQZNA5ZJmj8HFMXjmw/videos
Instagram: https://www.instagram.com/nvjewel_ngocvylashes/
Whatsapp: +84 932 581 753 Mrs Hue
Whatsapp: +84394 420 592 Mrs Giang